YouTube TV is a paid subscription service from Google. It is available for $49.99 for basic package with additional paid options available.
To proceed with YouTube TV cancelation, navigate to https://tv.youtube.com/. Make sure that you are signed in by clicking "SIGN IN" link on the top right. When signed in click on the avatar icon at the top right corner. You will see the following menu pop up.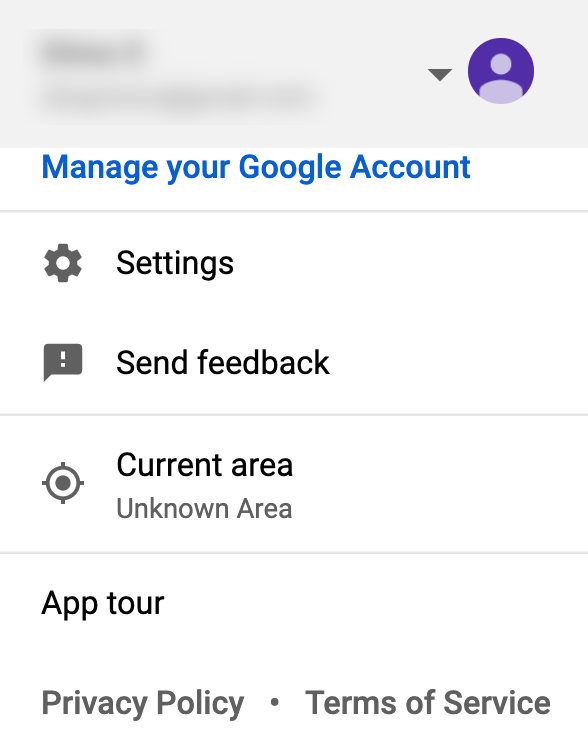 Select "Settings" from the menu to proceed to YouTube TV settings page. On the settings page below make sure that "Membership" is selected in the left sidebar. Look for the "YouTube TV" subscription on the right and click on a "Pause or cancel membership" link under it.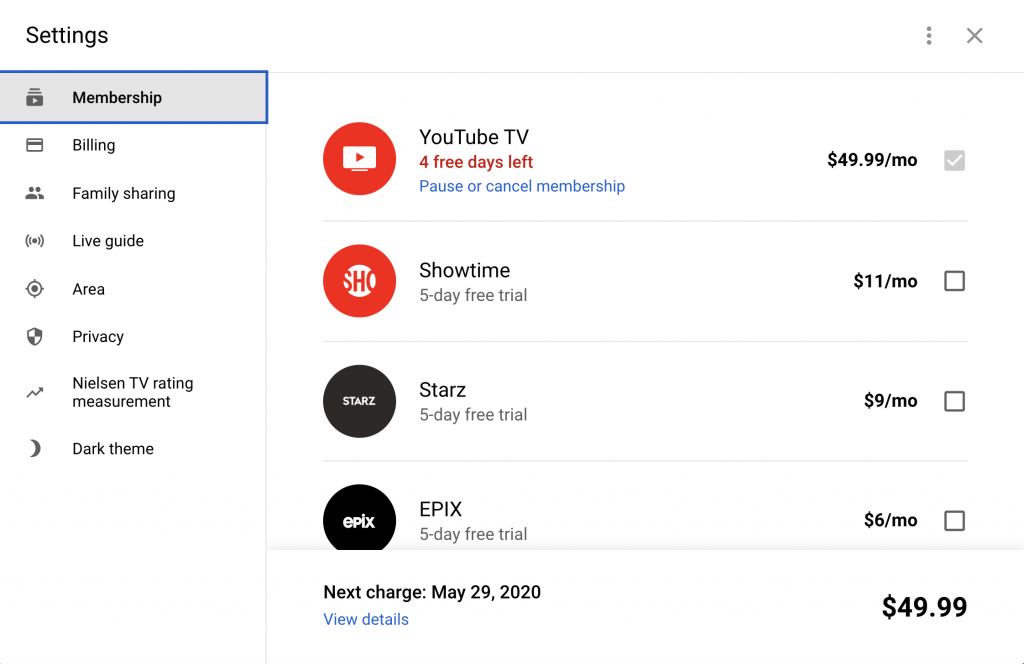 You will see the next screen where YouTube TV will suggest pausing your YouTube TV account instead of canceling it. You will also see why pausing YouTube TV account may be a better option: your current library recordings will be kept, you won't be charged during this time, all your family accounts will be paused during this period, and you can resume your membership anytime.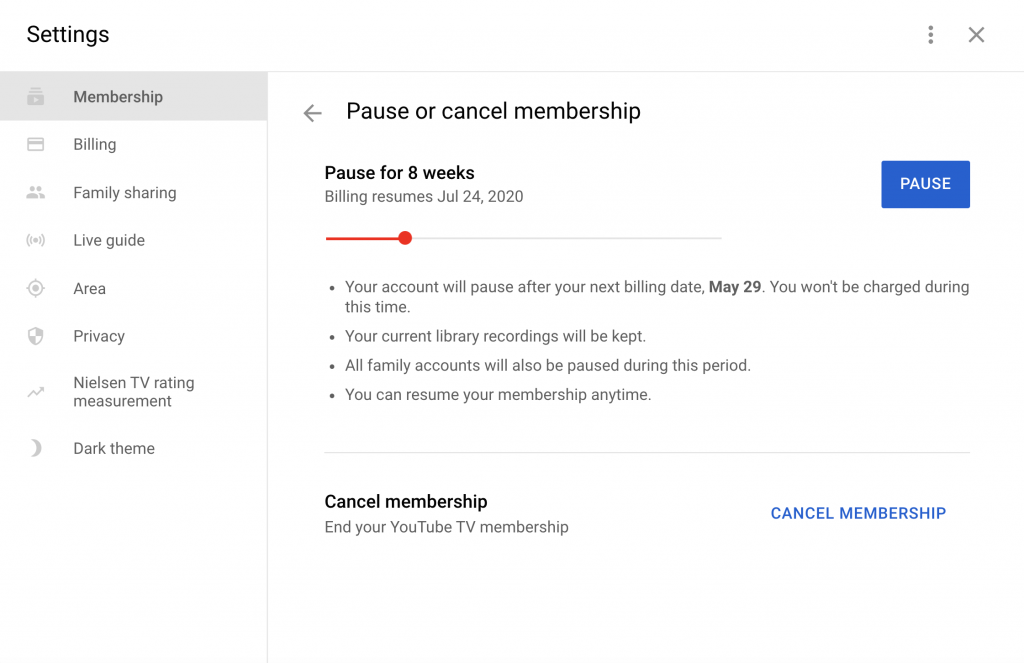 If you still decide that you want to cancel YouTube TV membership instead of pausing it click on "CANCEL MEMBERSHIP" button on the bottom of the page.
You will see the next cancelation screen where you can select why you chose to cancel your YouTube TV account. Depending on the reasons you will be suggested possible suggestions how the issue could be fix instead of canceling the account:
If you are concerned about cost you will be suggested to either save money by sharing your membership with up to 5 household members or to save by pausing your membership without losing your library or monthly price
If you are missing shows or networks you are suggested to use https://tv.youtube.com/search feature, discover various categories or start free trial of YouTube TV premium networks
If you are experiencing technical issues you can contact YouTube TV customer service by clicking on the "Contact Us" link
If you are confused about functionality of YouTube TV app you can take the app tour, customize your shows by category or view your shows by category.
If you have device compatibility problems you can learn how to setup YouTube TV on your device (https://support.google.com/youtubetv/answer/7452153?hl=en), install YouTube TV mobile and tablet app which are available in the App Store and Google Play.
If you don't like ad experience, you can provide feedback to Google about it.
You can choose not to provide any reason by just clicking "Other" and then "CONTINUE CANCELING".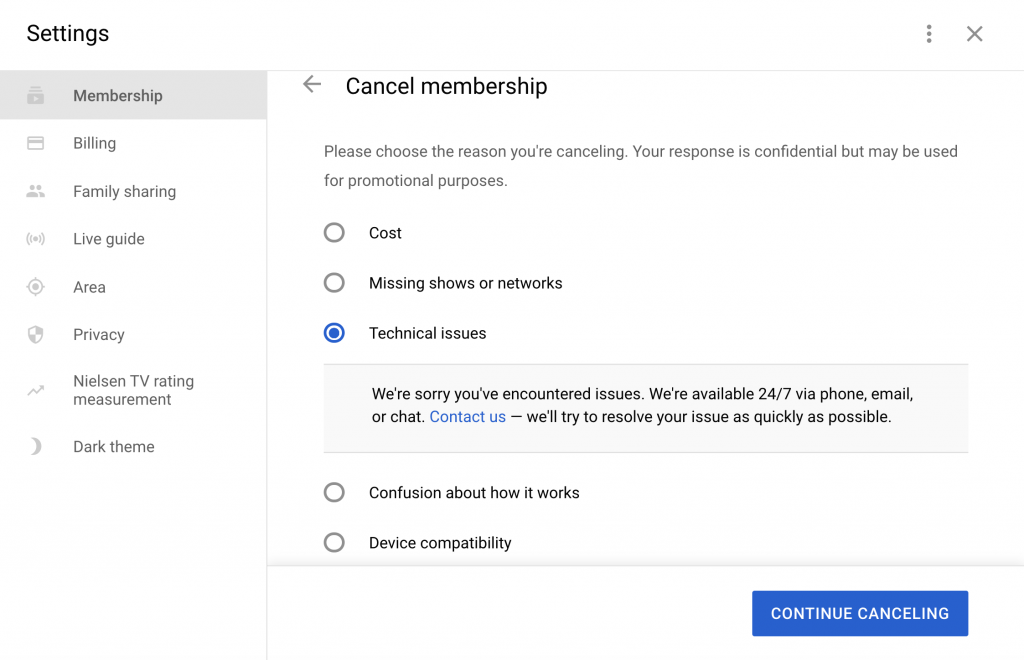 You will proceed to the final page of YouTube TV cancelation process where Google will once again describe what you will miss if you cancel your YouTube TV membership. To finalize cancelation process click on "CANCEL MEMBERSHIP" button as shown below.