Account Instagram could not be deleted using account management and settings interface located on the instagram.com account website. You can only temporary disable your account there. To cancel your Instagram account you need to follow https://instagram.com/accounts/remove/request/permanent/ URL. You will see a "Delete Your Account" page where Instagram will ask you for a reason on why you want to delete your Instagram account. Depending on the reason you will receive different suggestions on mitigating your problem. Below are some of the major concerns and mitigations.
Too many ads on Instagram platform. Mitigation: learn more about Instagram ads and how to grow your own business on Instagram.
Can't find people to follow. Mitigation: How to find noticeable accounts to follow, how to use hashtags, how to link multiple social accounts.
Too busy, too distracted. Instead of deleting your Instagram account it may be better to just delete Instagram app on your mobile device or disable notifications from it.
Privacy concerns. Learn how to block a user, make your account private, how to unfollow a user, what to do if your account is hacked
Have problems getting started. Learn how to get started on Instagram
Want to delete something from Instagram. Instead of deleting your entire account it may be worth learning how to delete a comment, how to unfollow a user, what to do if you don't want a user following you, how to delete a photo you uploaded, how to change your username or account information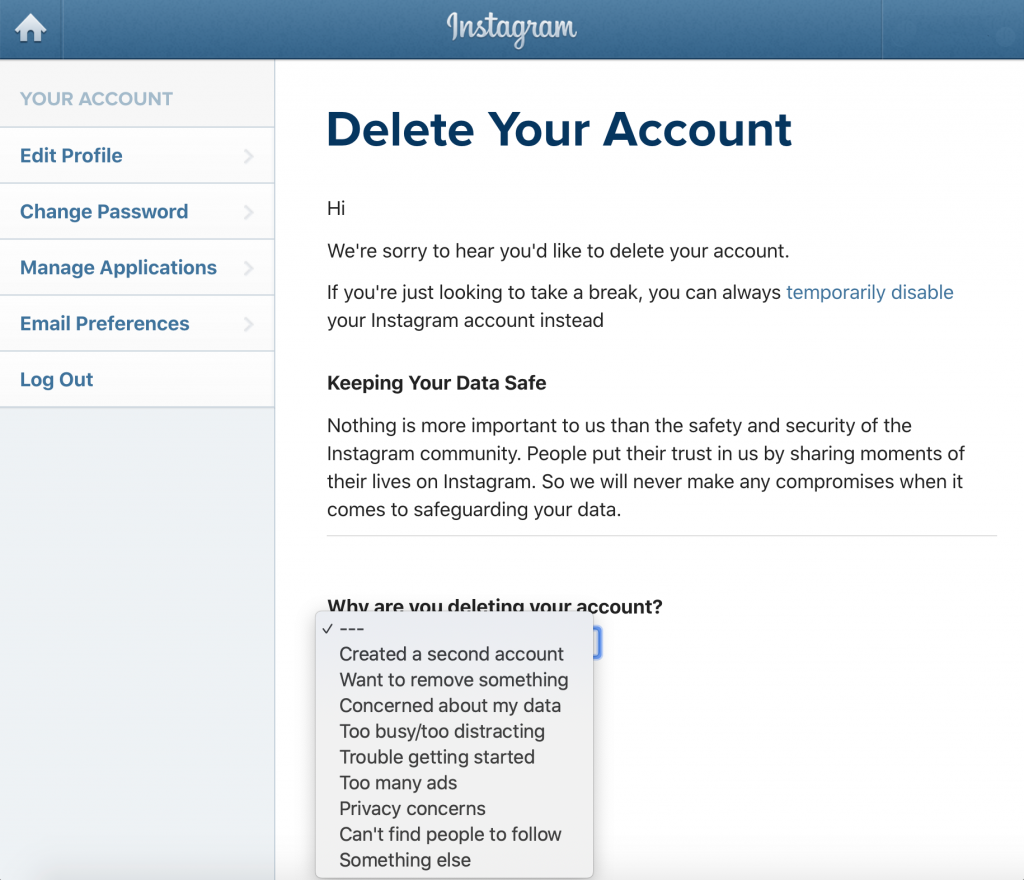 If none of above addresses your problem, proceed by entering your Instagram password and clicking "Permanently delete my account" at the bottom of the page. Your account and all associated content will be deleted. If you decide to create another Instagram account later, you won't be able to reuse your current username.